If you're a vegetarian, it can be difficult at times to find a decent meat-free restaurant when traveling. And if you're traveling to Vietnam, chances are you'll probably land in Da Lat – one of the most famous and beautiful cities for its rich history, magnificent natural sights, distinctive climate, fantastic local foods, and more. For those who are wondering, Da Lat also has the best vegetarian restaurants to suit your veggie needs! Check out our top choices below.
If you're still planning your trip to this city, don't forget to research when to visit and where to stay in Da Lat. Da Lat adventure awaits!
Phan Dinh Phung – A Large Stop for Vegetarians
Phan Dinh Phung street seems to be the neighborhood for vegetarians in Da Lat because there are a lot of amazing meat-free restaurants in this area. You can dine in a spacious and professional restaurant or in a friendly vegetarian house – all on Phan Dinh Phung street.
Hoa Sen Vegetarian Restaurant
With a cozy ambience and relaxing background music, Hoa Sen restaurant can be anyone's favorite, not just limited to vegetarians! The place was named after lotus, a flower symbolizing a sense of spirituality in Vietnam. Dining here will give you a restful experience along with amazing vegetarian dishes. They feature a variety of dishes on the menu, from regular colorful vegetables to sophisticated dishes with delicious protein substitutes. However, the highlight of Hoa Sen Restaurant is they tend to focus more on fresh vegetables and the chefs have done an excellent job turning veggies into exquisite dishes.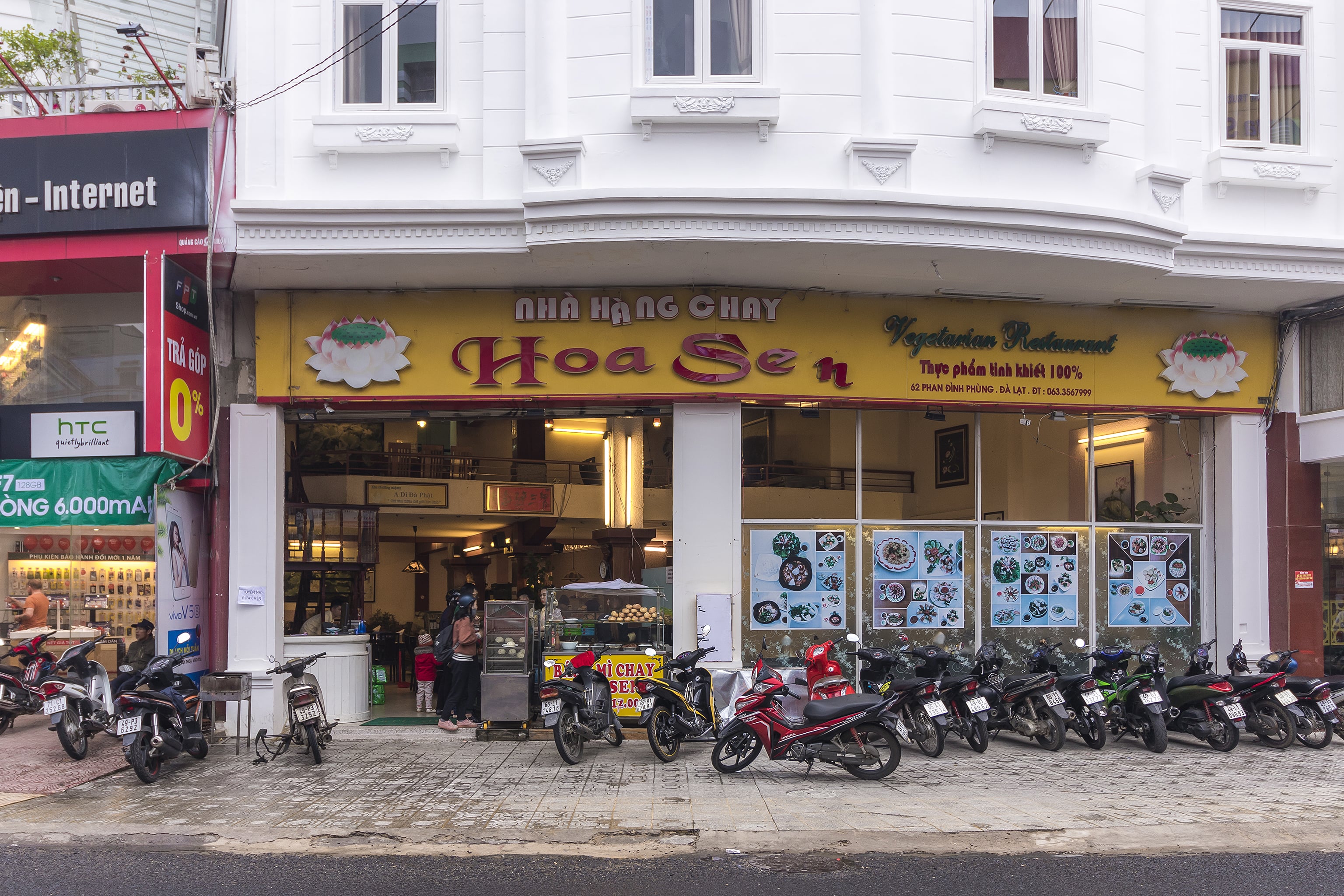 Start with appetizers like mushroom soup or some crispy fried spring rolls; then move on to a main course with rice-based dishes, signature Vietnamese noodles, or even a hotpot! After that you can try ice cold juices or soothing tea to finish your veggie meal. Come here to discover their extremely diverse menu!
This lovely restaurant is also located in the city center, so it's very convenient for travelers. Just around 700 meters from Da Lat market, Hoa Sen Vegetarian restaurant can be a fine dining place at your doorstep! However, do expect it will be overcrowded during full-moon days in the Lunar calendar as Vietnamese tend to have vegetarian meals on these occasions.
Address:
43 Nguyen Van Cu, Da Lat city
62 Phan Dinh Phung, Da Lat city
Website: Hoa Sen Vegetarian Restaurant Facebook Page
Contact: +84 263 3567 999
Price: from 30,000 VND to 150,000 VND
Opening hours: from 9 AM to 10:30 PM
Dai Loc Vegetarian Restaurant
This mid-range restaurant has comfortable tables and chairs, and nice decoration with calligraphy pieces in the Chinese style. The menu here is not as extensive as Hoa Sen's, but it can still satisfy your taste buds with savoury and appetizing vegetarian dishes. Other than main courses served as one big portion, you can also choose salads as a side dish to add more green to your meal. The main ingredients are all homemade with beans, tuber vegetables, or seitan to guarantee food safety. Great food with a hospitable and considerate staff –  another plus to check on the list!
Of important note, Dai Loc restaurant has vegan cakes and cookies that are typical Vietnamese and ready to eat! Many of them come in cute and funny shapes representing their names like worm or coin cookies. If you have a big sweet tooth, these snacks will come to the rescue!
Address: 368 Phan Dinh Phung, Da Lat city
Website: Dai Loc Restaurant
Contact: +84 263 3556 557
Price: from 25,000 to 80,000 VND
Opening hours: from 7 AM to 10 PM
Au Lac Restaurant
This is another cozy and friendly restaurant where you can have a fantastic vegetarian meal on Phan Dinh Phung street. Like Dai Loc, Au Lac is quite a small restaurant but their menu totally makes up for that. With over 50 dishes from light appetizers to group-sized hotpot, this can widen your vegetarian experience. They also have some Vietnamese sweet desserts so you can finish your meal with a delightful touch. Yummy vegetarian dishes with fair prices and a convenient location, don't miss this place!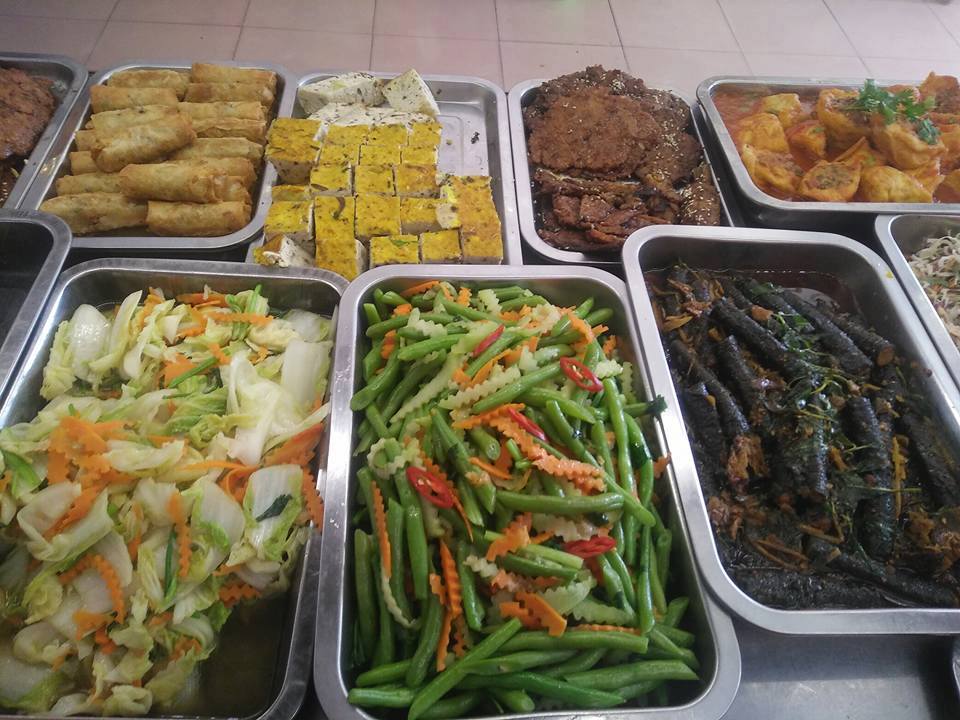 Au Lac has an open food stall so there's another way to place your order. If you don't want to order from the menu and wish to customize your dish, you just have to point to the desired toppings to let the waiter know. It's like a special buffet! Note that this can be applied to other restaurants which have the same structure, and price will be a little different from the fixed menu.
Address: 15 Phan Dinh Phung, Da Lat city
Website: Au Lac Vegetarian Restaurant Facebook Page
Price: from 15,000 VND to 40,000 VND
Opening hours: from 7 AM to 8 PM
Vegetarian and Vegetarian-friendly Restaurants in Western Style
The Sky Over Dalat
This restaurant really brings a new air to Da Lat's vegetarian culinary scene. Since the owner is Italian, food here is well-cooked with a Western influence. You will enjoy a unique and excellent meal that can make you forget that it's all vegetarian! While some Vietnamese traditional vegetarian restaurants tend to focus more on replicating regular dishes with protein substitutes, The Sky Over Dalat mostly uses a variety of raw vegetables to make food. Together with exotic seasoning and artistic vibes from the owner, veggie dishes here are truly worth trying. Da Lat is famous for its highly fresh and organic produce, and this restaurant knows just how to pick the right farm, so rest assured that you will have a fine dinner with some of the freshest ingredients in town!
The space is also very cozy with relaxing music and rustic decor of both Western and Eastern style. The staff is friendly, attentive, and helpful. It feels just like walking into a home of an old Italian friend of yours. Fantastic food in a Western menu, peaceful atmosphere, great customer service, The Sky Over Da Lat is ready to satisfy you.
Address: 24 Truong Cong Dinh, Da Lat city
Website: The Sky Over Dalat Facebook Page
Contact: +84 98 275 47 68
Price: from 75,000 VND to 100,000 VND
Opening hours: from 7 AM to 10 PM
Ganesh Da Lat
This is a chain Indian restaurant that has been well-established in Vietnam for a period of time. They have branches in Ho Chi Minh City, Mui Ne, Nha Trang, Hoi An, Hue, Phu Quoc, and Da Lat. With their huge menu of both vegetarian and non-vegetarian options, you can have a trip to explore Indian cuisine right in Da Lat. The main dishes here are categorized into two types, Northern and Southern Indian, from the classic masala to strong vindaloo. Serving flavorful dishes seasoned by distinctive spices, Ganesh Da Lat will end your cravings for vegetarian yet it will still fill your stomach.
Address: 1F Nam Ky Khoi Nghia, Da Lat city
Website: Ganesh Restaurant Homepage
Contact: +84 633 559 599
Price: from 80,000 to 150,000 VND
Opening hours: from 10 AM to 2:30 PM, and 5 PM to 10 PM
Other Vegetarian-friendly Restaurants with a Foreign Menu in Da Lat
Émai Dalat: This is another amazing Italian restaurant in town and they feature several vegetarian dishes on the menu. The food is excellently cooked in an exclusively Western way from starters to desserts. It has a nice garden offering wonderful views while you're dining. Émai is also a homestay with beautiful rooms for those who want to have a quality breakfast served right below your bedroom.
Address: 1 Thi Sach, Da Lat city
Website: Émai Dalat Facebook Page and Homepage
Contact: +84 263 3839 001
Price: 50,000 VND to 900,000 VND
Opening hours: from 7 AM to 11 PM
Artist Alley Restaurant: You can tell by the name that this restaurant is really artsy, and the design and decoration must be special. It's true! The owner of Artist Alley is a painter, and his restaurant is full of his artwork. As interesting as it is, the food here is a combination of French and Asian cuisine, adding a new experience to your food tour. Their vegetarian menu includes curry and spaghetti, along with vegetable side dishes in other categories.
Address: 124/1 Phan Dinh Phung, Da Lat city
Website: Artist Alley Facebook Page
Contact: +84 94 166 22 07
Price: from 70,000 VND to 100,000 VND
Opening hours: from 11 AM to 9 PM
Other Veggie Houses and Eateries in the City
An Lac Tam Restaurant
This is a typical Vietnamese eatery with an open kitchen and casual furniture so you can have a different local experience here. An Lac Tam mostly serves dishes with main ingredients like meatless alternatives such as tofu, eggplants, beans, etc. You will see a lot of Vietnamese classics here such as bun bo, pho, mi quang, all in the vegetarian style. The seasoning is pleasant and flavorful, making it suitable for those who have strong taste buds. If you want to try signature dishes of Vietnam and would rather not ruin your vegetarian habit, this is the place!
An Lac Tam also includes some special dishes on the menu like Vietnamese pancakes and clay pot rice to enrich the taste.
An Lac Tam currently has two branches in Da Lat, so make sure to head to the closer one. The price here is also a plus, you can have a full lunch with around 25,000 VND (a little more than 1 USD).
Address:
20A Bui Thi Xuan, Da Lat city
Website: An Lac Tam Foody 
Block A12 Nguyen Dinh Chieu, Da Lat city
Price: from 20,000 VND to 35,000 VND
Opening hours: from 9 AM to 9 PM
Thanh Tinh Vegetarian
This local restaurant specially features vegetarian dishes from southwest Vietnam. They serve all kinds of noodle dishes, rice, bread rolls, and many more. You can also enjoy some sweet specialties originally from the Mekong Delta provinces: banh pia and banh in, which are all vegan. Banh pia is quite similar to mooncake due to its dense texture, main ingredients, and sweetness. And banh in can give you a whole new experience: they are no-bake cakes with a round shape and white color. The flour used to make banh in is very unique as it can firmly hold the stuffing, but it also easily falls apart and melts in your mouth when you take a bite.
Now you can totally try these delightful Vietnamese desserts even if you are a strict vegan!
Address: 32/1 Phu Dong Thien Vuong, Da Lat city
Contact: +84 263 6287 318/ +84 91 8307 970/ +84 974 778 977
Price: 25,000 VND to 30,000 VND
Opening hours: 8 AM to 9 PM
Vegetarian Food Stalls in Da Lat Market
If you're wandering inside Da Lat market and your hunger is so distracting, come try these vegetarian food stalls in the market! Located on the second floor, these kiosks stay close together so you can visit another stall if one is already full. Don't worry about quality because they're all delicious and flavorful. Keep an eye out for the words "com chay" or "chay" and you will find great vegetarian food!
Food is absolutely important to make your trip worthwhile and memorable. Whether you're a vegetarian or not, I believe a great (and veggie) restaurant can satisfy your hunger just as a normal restaurant will. When you travel to Da Lat, try one of the restaurants above and let me know what you think!
If you're looking for more information about traveling to Da Lat, check out these articles on our blog:
Da Lat in Two Days – A Full Itinerary!
Brunch in Da Lat: Charming Cafes and Restaurants
Breakfast in Da Lat: Start Your Day the Right Way
If you enjoyed reading this article and would like some more fun info about what to see, do and eat (and a bunch of interesting cafes!) in Vietnam, follow us at the Christina's blog!
The post All the Top Vegetarian Restaurants in Da Lat appeared first on The Christina's Blog.
Original by Christinas' Blog – Click here to read full post

Brought to you by Vietnam Visa Letter | Voavietnam.net – Trustworthy Vietnam Visa Agency