Whether or not you know anything about makeup, maybe a few of you will have heard about Michelle Phan, the Youtube makeup phenomenon who famously transformed Lady Gaga in 2007. But Phan is not the only talented Vietnamese beauty guru. I have compiled a list of the top Vietnamese beauty bloggers and makeup artists. In this list, you will find one artist who once worked for America's Next Top Model and another is creating the beauty of top celebrities like Miranda Kerr and Selena Gomez! Are you curious yet? Read on to find out.

First, let's take a look at the best makeup artists in Vietnam.
Nguyen Nhat Binh – The Multi-talented Makeup Expert
When you don't know what topic to talk about with the parents of your Vietnamese friend, just ask them about Thuy Nga Paris By Night Entertainment Show, a music-comedy show that is very famous among the Vietnamese community around the world. They will sing and talk non-stop about it and you'll become their instant favorite. Nguyen Nhat Binh is one of the most famous makeup artists on this show.
Nguyen Nhat Binh graduated from the University of Architecture in Vietnam but he discovered his interest in makeup in his early 20s. An opportunity arose to work with "Tiep Thi & Gia Dinh", a famous magazine for women at that time. He later won an award and then immigrated to the US.
Following the natural makeup style, Nhat Binh believes that makeup enhances a person's hidden beauty without exaggerating it. He finds meaning in his work when he sees the tears on a woman's face when she looks at herself in the mirror after having a makeup session with Binh.
Life is too short to be good at just one thing. Binh is lucky enough to have a great singing voice and a good sense of humor. He can even act! Nowadays, Binh is collaborating with Thuy Nga Paris By Night while also doing makeup for many celebrities in Vietnam, one of whom is Nguyen Cao Ky Duyen, a beautiful and famous show host. When it comes to business, he has his own cosmetic brush brand called BASIQ and he is also a Creative Director of a concept store selling beauty products in Vietnam.
Binh is a social-friendly artist, who usually answers fans on Facebook and does live streams to share beauty tricks and skincare tips. If you want to know more about him, check his Facebook and Instagram.
Check out his beauty concept store at 21A Cao Thang, District 3, HCMC
Hung Van Ngo – Conquer Dreams in Hollywood
Meet the Vietnamese makeup artist who enhances the beauty of many celebrities including Miranda Kerr, Selena Gomez, Katy Perry, Anne Hathaway, and more.
Ngo was actually a hair-stylist before becoming a renowned makeup artist. He immigrated to Calgary, Canada with his siblings at an early age before moving to New York City in 2016. He actively learned to do makeup from his friends before officially working for a prestigious beauty salon. Regardless of his rough start in the fierce market of the Big Apple, his creativity, artistic eye, hope, and effort have given him an opportunity to be who he is today.
His makeup also focuses on a natural and perfect makeup foundation in order to make the skin look smooth and matte. He pairs this with a bold lipstick color to create a sexy look. Before applying makeup, he always spends time working on skincare steps by using glycolic serum and Korean face masks. He says that flawless makeup starts with flawless skin.
In parallel with working closely with Beverly Hills celebrities, Hung Van Ngo also collaborated with lots of global brands in their campaigns such as Diane Von Furstenberg, Guess, and Vogue Magazine.
Get to know more about Hung Van Ngo via his website and Instagram!
Kim Phung Le – The New Generation
Kim Phung Le (or Lele) is a young makeup artist with undeniable skill and aesthetic taste. Her job as a fashion model was the first match to ignite her dream of being a professional makeup artist. Lele's relationship with magazine editors, "It" girls, and celebrities grants her a big advantage in her career.
Lele follows a modern western style, focusing on creating dewy skin, deep eyes, and sexy lips. She is a personal makeup artist of model and show host Phuong Mai, rapper Mai Phin, and so on. She is the top choice of many brides on their big days and fashion shop owners when they want a good makeup artist to take care of their models on new collection photo shoots.
If you are looking for a good makeup artist for any event, contact Lele via her Facebook or phone (0933385005). Take a look at her amazing work here!
Hiwon – The "fairy father" of Viet Celebrities and "It" Girls
Knowing that makeup is his true love and real passion, after graduating from high school, Hiwon (full name is Tran Quoc Huy) took a professional makeup artistry course to chase his dream. Later on, he collaborated with a few magazines to do makeup for their models and "It" girls.
His talent was soon recognized by a lot of influencers. On his customer list, people can easily spot many big names from Vietnam showbiz like Angela Phuong Trinh, Miss Vietnam Dang Thu Thao, Chi Pu, and many other people.
Hiwon's makeup style is inspired by Korean beauty. He is skilled at bringing out the cute yet attractive look in his customers. As eyes are windows to the soul, Hiwon's makeover focuses on creating charming eyes, which can seduce those who "dare" to look in.
If you want to book a session with Hiwon, find him on his Facebook or his beauty salon at:
Address: 491/2, Le Van Sy, Ward 12, District 3
Phone: 090 295 53 92
Fanpage: Hiwon Makeup Store
Tee Le – A Chameleon Artist
I call Tee Le a chameleon artist because he doesn't confine himself to one makeup style, rather he's always changing his looks based on different concepts, the customer's face structure as well as his inspiration.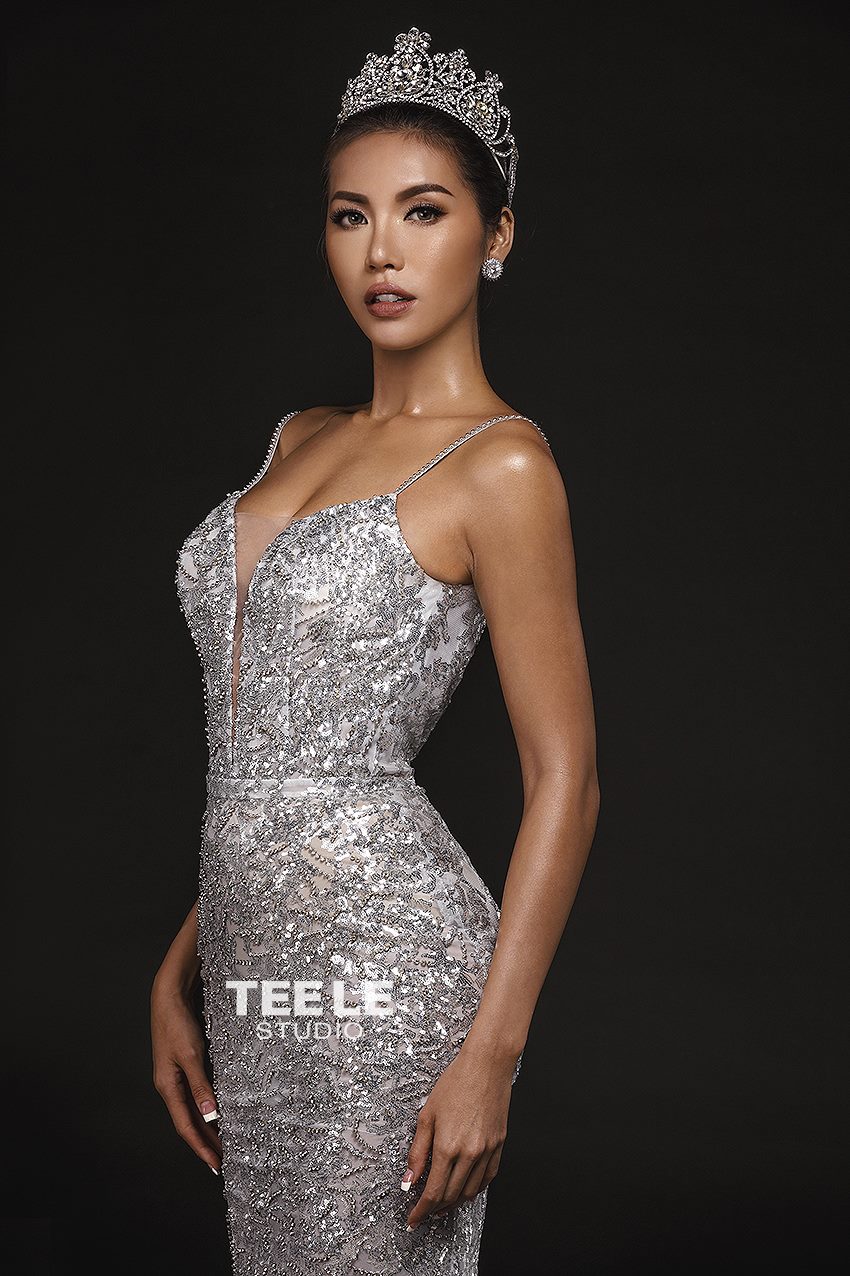 Tee Le can turn you from a normal girl to a fancy princess and from a princess to an impressive rock star! This is why Tee Lee is trusted by countless celebrities when they need a gorgeous look to attend an event. But even the occasional bride requires his services to look their best on their special day.
Take a look at Tee Le creative work here and visit him at:
Address: 189/1B Cong Quynh, District 1, HCMC
Phone: 093 899 09 22
Facebook: Tee Le Studio
Now you know the five most important makeup artists in Vietnam. If you want to makeover your image and spend a little money to have a fabulous look on any occasion (such as… joining your ex's wedding party) don't hesitate to schedule an appointment with them.  
Let's talk about the beauty bloggers and vloggers in Vietnam.
When beauty blogs became a trend in Vietnam, a lot of people started to work on their blog and Youtube channel in the hopes of sharing knowledge and being an influencer in the cosmetology industry. Among a thousand accounts, these are some names that stand out.
Changmakeup
Despite some of the scandals surrounding Trang Ngo, the owner of Changmakeup, she is still the most successful beauty vlogger in Vietnam. Her videos about lipstick swatching on Youtube was a small phenomenon on the internet for a while which gained above 510,000 followers for her channel and brought her 910,000 fans around the world. People were talking about Changmakeup on every big and small beauty forum, while her videos can be seen on any beauty platform. Changmakeup also posts videos about Ngo unboxing certain products for review, while showing useful tricks and tips to her followers. In 2016, Changmakeup launched a lipstick line called Ofelia. The collection comes in many beautiful colors, elegant packaging, and it goes without saying that these products are high quality, making this collection a true success when it was introduced to the market.
Love At 1st Shine
This channel is the product of two office girls with a passion for the beauty world, Hoang Ngoc Diep and Vu Kieu Loan. When your love for something is big enough, have the courage to take action! Diep and Loan usually spare their free time to write beauty articles and create editing video clips.
Love At 1st Shine shares everything about cosmetics from good drugstores to high-end makeup brands in a natural and intimate way. When you watch their videos, it feels as if you are talking to a friend. The girls also run a famous cosmetic store, which offers authentic products from other countries.  
Find them on their website and Youtube Channel.
Trinh Pham
Trinh Pham will capture your heart with her sweet voice and shiny smile. Her energetic videos have a friendly tone and good vibe, making you like her at first sight and want to try everything she recommends. Instead of just focusing on products from the US, Trinh Pham finds and reviews a lot of domestic drugstore brands from Japan, Korea, and Vietnam. That's also what makes Trinh Pham special and remarkable.
Find her on Youtube and Instagram
Fiery Bread by Thuy Vo
Thuy Vo is a good example of the saying: content is king and social media has power.
She started to write posts about skincare and makeup-related topics on Facebook in the hopes of sharing her knowledge and findings with friends in her community. The posts were informative and addressed realistic issues like how to treat your acne and guides to good skin care. Therefore, many people have found it helpful and it has now spread with the simple click of the share button. This smart lady decided to create a blog to store her articles so other people can easily search and read them later.
Thuy Vo studied to be a dermatologist so she has great advice. In addition, Thuy Vo really tries her best to interact with her fans by answering their questions related to beauty, skincare, and lifestyle. She is also one of the last bloggers that doesn't chase money to review low-quality products. Bravo Thuy Vo!
If you are curious, you can find her here on Facebook, her website, and Instagram.
Above are some makeup artists and beauty bloggers that I admire. Hopefully, this article is helpful to you. If you want to read more article related to fashion and shopping in Vietnam, check these out:

Ultimate Guide to Shopping in Hoi An: Clothing, Jewelry, Art and more!
Shopping in Saigon – The Best Local Markets & Spots To Find Great Deals
The Evolution of Women's Fashion in Saigon (& All About the Famous Street Pajama!)
If you enjoyed reading this article and would like some more fun info about what to see, do and eat (and a bunch of interesting cafes!) in Vietnam, follow us at the Christina's blog!
The post Top Vietnamese Makeup Artists and Beauty Bloggers You Should Follow appeared first on The Christina's Blog.


Original by Christinas' Blog – Click here to read full post

Brought to you by Vietnam Visa Letter | Voavietnam.net – Trustworthy Vietnam Visa Agency