If your travel bucket list includes trying worldly cuisine, there should be room in it for bun dau mam tom – Vietnamese fermented shrimp paste noodle. Sure, pho, bun cha, banh mi, banh xeo may be among the most popular in Vietnam, but if you would like to try something a little more unique, then bun dau mam tom should be in that list. We know it sounds a little unappetizing when we say fermented shrimp paste noodle, but hopefully this article will be able to convince you as to why you should try it at least once.
What is Vietnamese fermented shrimp paste noodle
I bet you thought durian was probably the smelliest food you could find in Vietnam. Wrong! Bun dau mam tom gives it a good run for its money. Like with durian, people can get addicted to it very easily and the fact is that it is one of the local's favorite dishes – especially those from the north. It is so true when people say that Vietnamese cuisine doesn't win any points for complexity. If it is too complicated, it can't be classified as a street food. That is also the key to the success of a street food business.
Bun dau mam tom has 3 main ingredients: vermicelli noodle, fried tofu and shrimp paste. So, if you easily have access to these 3 main ingredients, you can become a vendor owner or even start your own F&B business in Vietnam. However, there is one kind of veggie called Vietnamese balm, accompanying other kinds of vegetables on the plate like perilla leaf, fish mint or cucumber, that play a really important role in making the delicious flavor in your mouth.
It is so true when people say that Vietnamese cuisine doesn't win any points for complexity. If it is too complicated, it can't be classified as a street food. That is also the key to the success of a street food business.
You can tell a good bun dau mam tom by the fried tofu and the shrimp paste they serve. The tofu should be well deep fried until it turns yellow on the outside but still can retain the moisture, softness and the original taste on the inside. The shrimp paste shouldn't be too salty or too thick, but definitely it needs to have a specific sour taste from the lemon or kumquat served to you and the spice from the chili.
The restaurant/stall version of bun dau mam tom will have steamed pork, green rice pork nuggets, small intestine of pig, large intestine of pig that is stuffed with veggies and grilled, and fried spring rolls as extra options for you to choose. Order as you wish.
Where to find fermented shrimp paste noodle in Vietnam
AB is a popular dish in Hanoi, the capital city of Vietnam. Almost every Hanoian loves this dish. It is such a simple dish and moreover, it is cheap. Just spend 15.000 VND (less than $1) and you will have a full belly afterward. You'll even miss it if you don't have access to it often. But lucky for you, because of the fan club trailing behind this dish, it has spread throughout the country. You can now find bun dau mam tom in Da Nang, Hoi An, Nha Trang, Saigon, etc, but you will have to do some research on where you can find it in these cities.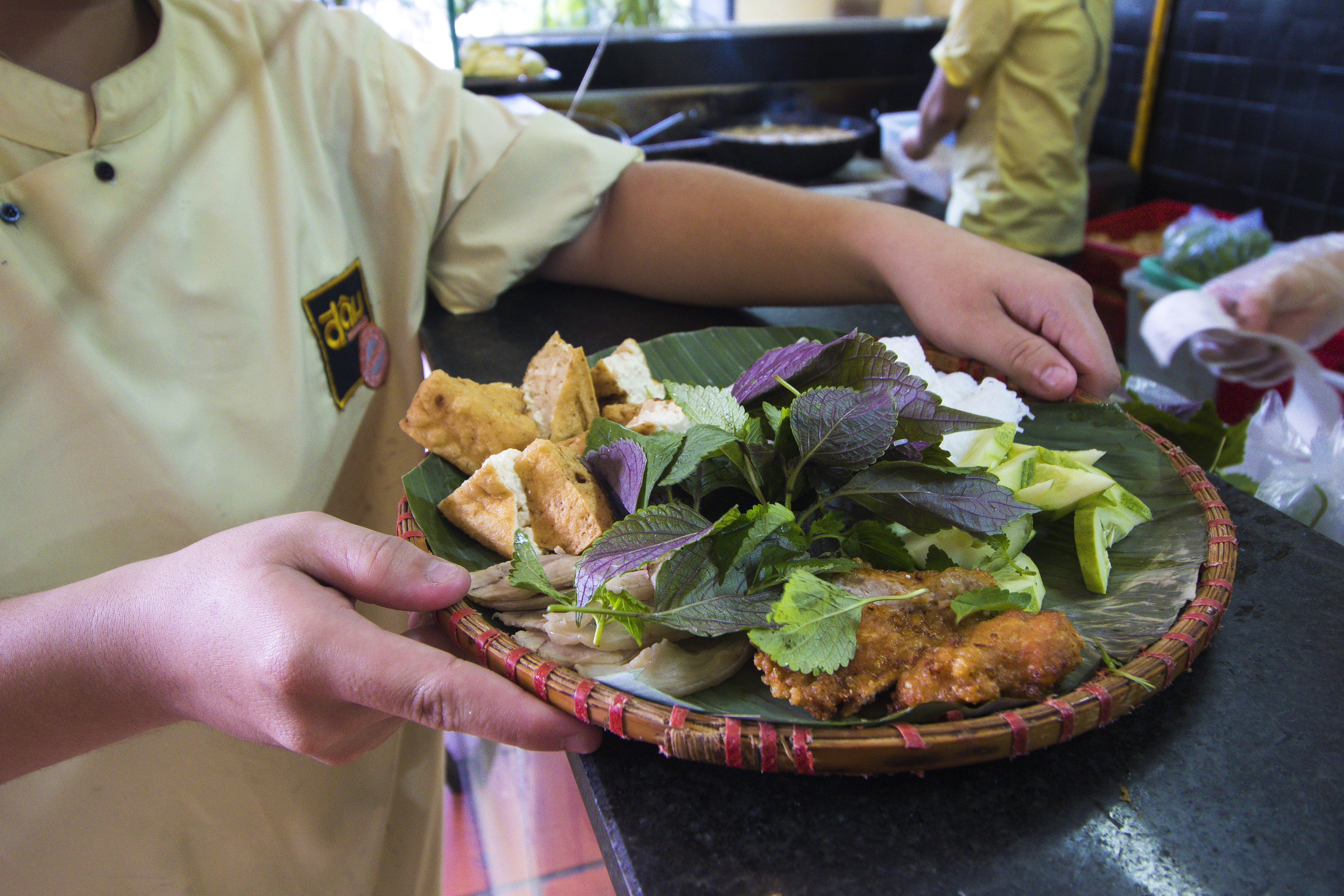 Generally, in Vietnam you'll see many a street food vendor carrying a bamboo pole that supports two magical baskets, one at each end. If she also carries a pan,  a mini gas stove, a bag of veggies, a plastic box of shrimp paste and so many tofu pieces, then you've hit jackpot! These women know how to serve the dish best but you can also find it in restaurants.
If you ever visit Hanoi, you should try bun dau mam tom in a small alleyway located off Hang Khay street, right opposite of the Hoan Kiem lake. This tiny alley is numbered 31 and has 2 different spots that serve bun dau mam tom. Both vendors serve the dish beautifully and both are equally delicious. Many foodies make detours here. The average price for a flat winnowing basket of bun dau mam tom with accompanying sides is about 40.000 VND (almost $2).
Where to find the best bun dau mam tom in Saigon
1. Bun dau Homemade, 1 Nguyen Van Trang, D.1
Located on the corner of Nguyen Van Trang and Le Lai streets, Bun dau Homemade stands out due to its nice yellow decoration. With a large space and quite comfy tables, this place is a favorite lunch spot for office staff working in the area nearby. That is a tip for you as well – if your time is flexible, try to avoid lunch time. For 65.000 VND (almost $3), you will have a full plate of bun dau with all side options. A bonus is that, to meet their customers' needs (ie: variety in what they want for lunch) this place also offers other special dishes from Hanoi.
2. Bun dau Cau Go, 202 Nguyen Trai, D.1
Bun dau Cau Go is another popular spot for a Saigonese or tourist to find good bun dau. This place is also decorated in yellow, so it is easy to notice it from a distance. Their only items on their menu are fermented shrimp paste noodle with fried tofu, pork, green rice pork nuggets and squid nuggets and a drink like tea or Pepsi, so you won't be overwhelmed by your choice. That is probably why they are able to meet their customers' demands pretty fast. Just 5 minutes after you place your order, you will be served.
Opening time: 8:00 am – 11:00 pm
3. Bun dau Co Khan, 102/26 Cong Quynh, D.1
Bun dau Co Khan is probably one of the very 1st spots in Saigon that sells fermented shrimp paste noodle. Run by Trang Khan, a famous model and actress in Vietnam, this place easily became famous. The crusty fried tofu and the funky fried intestine served here brings in a lot of customers. Beside bun dau, this place also has other kinds of noodle cooked with shrimp paste that you should try.
Opening time: 10:00 am – 9:00 pm
4. Bun dau A Vung, 55 Luong Huu Khanh, D.1
Spacious, with fast service and an air-conditioned 2nd floor are definitely in the top 5 reasons as to why people visit this place often. But of course, the number one reason is the taste. There are many choices for you here to order: original shrimp paste with tofu and pork, intestine, and stuffed snails. The price is also pretty cheap here – varies from 30.000 VND to 70.000 VND for 1 person ($1 to $3) depending on what it is you order.
Opening time: 9:00 am – 10:00 pm.
5. Bun dau Tien Hai, 409 Nguyen Tri Phuong, D.10
This place is a little bit far from the city center, but it is located on a pretty busy street so this place is always packed. Since it is a popular hang-out spot, you'll have to wait a bit for your order to arrive.
Opening time: 10:00 am – 10:30 pm
How to eat bun dau mam tom
The simplicity of this dish might make you think that it is quite easy to eat. But nope, this is not the case.
First, a warning – The fried tofu will be extremely hot. Make sure you don't burn your mouth.
Add kumquat/lime into your shrimp paste and mix with your chopsticks. The shrimp paste should be mixed well enough till you see it gets a frothy surface.
Every bite you take should include a Vietnamese palm leaf. You will be surprised by the interesting taste it creates.
If you can't handle the shrimp paste, fish sauce or soy sauce can replace it. But you know… then what's the point?
This dish is not a breakfast friendly dish. It is fermented shrimp paste and those who have a sensitive stomach might feel a little bit unpleasant after having it, especially in the morning.
If possible, you should shave before a bun dau mam tom feast. The smell will stay there till you wash your beard properly… jk! Actually, you will get some gum or a mint candy after your meal. No need to worry about the smell.
Now you've got the tips. Let's make it happen. Tell us about your fermented shrimp paste noodle adventures. Was it a mouthful just like the name?
GENERAL INFORMATION 
Here is the information of the restaurant featured in Onetrip's Street Feast video.
Name of dish: Bun dau mam tom
Price: ~35.000 – 100.000 VND per person
Opening hours: From 10:00 am to 11:00 pm.
Address: 1 Nguyen Van Trang, D.1, HCMC
Bun dau mam tom is great, but there are other hundreds of tasty Vietnamese dishes waiting for you to try in Hanoi! So join the Onetrip Hanoi Food Tour; get on a motorbike, and our local guide will take you to the best munching spots in this capital! Beyond that, you'd better prepare for some awesome sightseeing experiences such as viewing beautiful lakes, catching sunsets, crossing bridges, and snaking through the beautiful Hanoi Old Quarter. Okay, now let's go!
Enjoy eating Vietnamese food and wanna know some more fun info on certain dishes such as com tam, banh trang nuong, bot chien, and bun do? Find these and more at The Christina's Blog!
The post Bun Dau Mam Tom: The Smelliest Food in Vietnam And All About It appeared first on The Christina's Blog.
Original by Christinas' Blog – Click here to read full post

Brought to you by Vietnam Visa Letter | Voavietnam.net – Trustworthy Vietnam Visa Agency